Branch Line is a small picture book about a hard-luck short line railroad that I wrote and illustrated in 2015. The Goatville, Union Pond, and Western Railway featured in the story was an invention based on four decades of chasing trains - or so I thought! But then last month we went on vaction to Newfoundland. If you have an eye for trains, it's hard to miss the relics of the Newfoundland Railway, a narrow gauge network that spanned much of the island until its abandonment in the late 1980s. I had my eyes peeled for old bridges and gravel roadbeds for the entire trip. When I arrived in harbor town of Trinity, however, I couldn't help but feel I had been there before...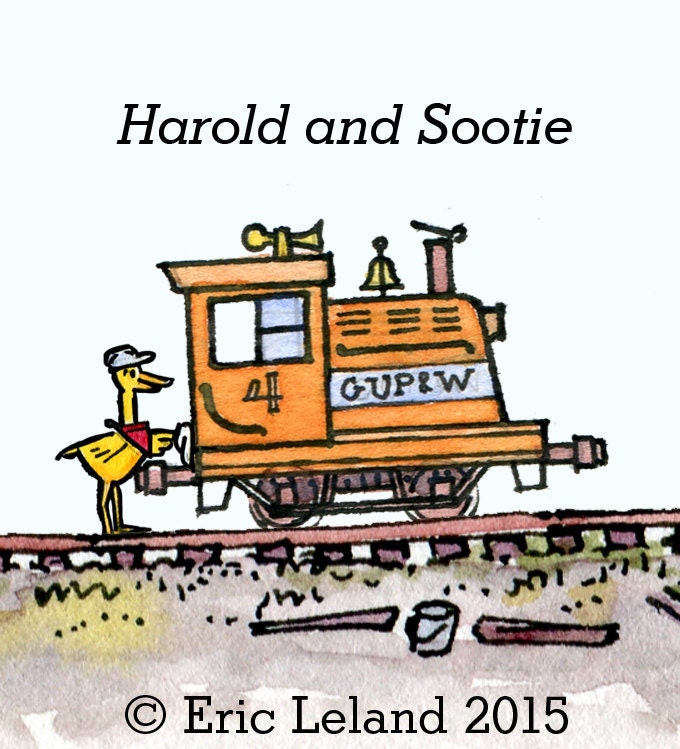 The story in Branch Line is that the old Goatville, Union Pond, and Western Railway - also known as the Gave Up and Walked - hasn't run a train in ages when one day a new cookie factory opens and it's up to Harold, the Junior Assistant Brass Polisher to hop onto his beloved engine Sootie and deliver a boxcar of flour. To do this, they have to cross a number of obstacles with the help of the loyal section gangs that are responsible for maintaining the track. Here they are venturing across the trestle over Union Pond...

Branch Line is essentially a fable of infrastructure maintenance, sweetened with a subplot of cookies. If you are interested in owning a copy, have a look in my shop. But now - back to my trip to Newfoundland! In order for the railway to descend from the hills of the interior to the seaside town of Trinity, a loop was constructed around a lake which allowed the railway to spiral down at an easy grade. This unique engineering landmark seems to have hung on by a shoestring as a tourist attraction until around 2005, but now it, too, lies quiet and rusty at the end of a back road. I wanted to see it even so, and when I got there, look what I found!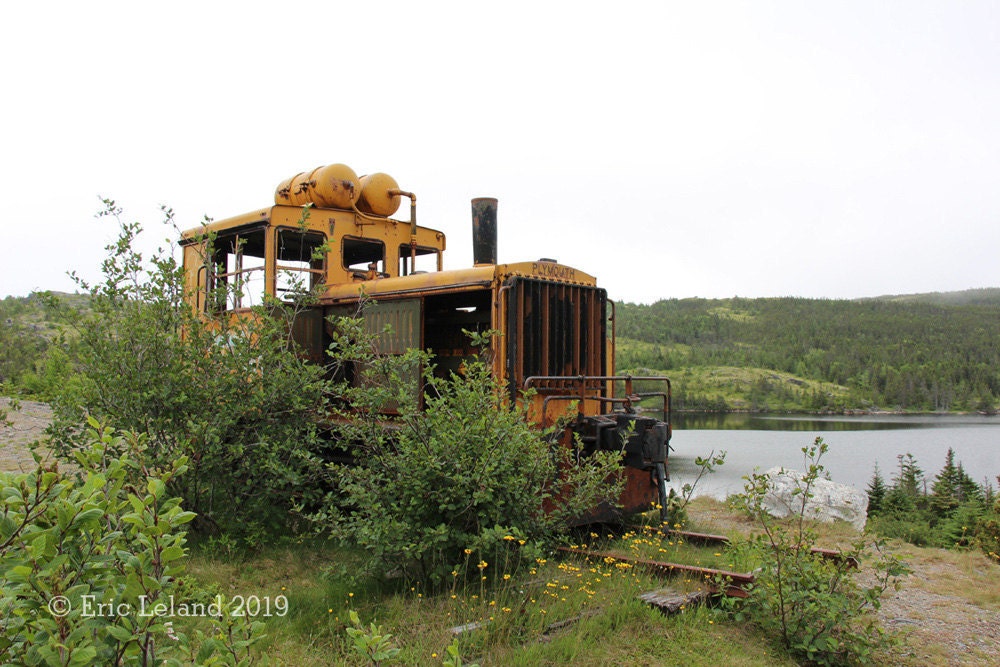 I couldn't even imagine a better match for Sootie! If only I had known about this place when I was illustrating Branch Line, this little engine could have been my model. As it was, I found what was left of the Newfoundland Railway to be thoroughly charming and a little sad wherever I encountered it. Oh, to have been able to ride it when the trains were still running!